Slow down Time! Slow down!
What happened to the last week of March!!?!!
Okay, I blinked and it's like April. Well, almost April at the time of this posting.
Last week was a blur. Reports, meetings, office renos up the wazoo! Writing? What's writing??
This is why I'm not published yet. Too much "writers block" as my good friend, and ex-Wolseley Writing Group partner would say.
Writers Block. Not so much a block of ideas, but a block TO those ideas, as in laundry that has to get done, the dishes, the garden planted, grant reports to pay for my job, and oh yeah! Office Renos!! Which, although a pain in the buttocks, have come along nicely and will make my whole work experience that much more pleasant in the weeks, months and hopefully years to come. New paint, carpet, new furniture. It'll be nice!
Which brings us back to writing. My poor abandoned story that I read out at Aqua Books on March 21 (Aaaahh, the memories...) and promised to post the rest of here, at me wittle blog, on Thursday, March 29.
Well, that never happened.
I'm hoping to finish it off (the last page!) in the next few days and post it next week. It's a small goal to meet, but with last week now behind me, it is totally do-able! Yay!
I did a lot of walking around today and boy I'm bushed. Not used to it anymore. That's what happens when you go from walking 30 minutes to the bus (twice a day), and then slinging heavy freight around a warehouse, to walking 2 minutes to the bus (twice a day mind you), and then slinging my lazy butt in a chair in front of a computer for the last six months. I'm getting all flabby and lazy and my pathetic muscles have left the building!
At least Spring is attempting to come out, and soon I'll be biking to work! Yay!
Oh, speaking of Yay! One month and 4 days till SPIDER-MAN 3!!
I was sorta bad and picked up a bunch of action figures today. Heh-heh. I'm a bit of a "collector" of Spider-man stuff. Those who have seen my office know what I mean.
But, as a professional toy connoisseur, and Spider-Man freak, I must say I have to give the new Spider-Man 3 toys a decent 8 out of possible 10!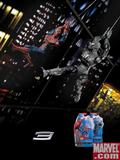 They're totally cool! Collectible for the collector (that's me!) and playable for kids! They're smaller than the new breed of 9" figures, coming in at a respectable and easily playable 6", and they're actually figures! Not "action playing figures" as in "Spider-man with water squirting action" or "Spider-man with jumping backpack squirting action" or "Spider-man with purple suit and transforming sword"
Transforming sword!?! What the!?!
These are actually Spider-Man figures which kids can play with! Someone up in Toy Land was listening to my rants to the Universe. Kids don't need stupid accesories which don't belong with the superhero...they just want the superhero to play with! And villains to fight! This new set of toys comes out with no less than 8 different villains, and ToysRUs had lots of them!
Da Deadly Sandman! The New Goblin!
The Scorpion! Doc Ock!
The Rhino! The Green Goblin!
Kraven da Hunter! The Lizard!
Not like the debacle of the Spider-Man 2 toys, where there were a ton of different stupid Spider-Men with stupid accesories, and 1 Doctor Octopus figure per 10 Spidey figures (which the industry likes to call the "chase" figure because, I guess, people like me were chasing them all over the fricken city looking for them!).
The mentality is that collectors like me will buy the case of 10 figures just to get the 1 Doc Ock figure. They figured wrong.
And what about the kids?!? Sure, they could get tons of different Spideys, but no villains to fight!?? What brainiac suit-and-tie thought of this!?
BUT NOW, we have the Spider-Man 3 figures. Much better set these Spider-Man 3 figures. Much better.
Okay, I've talked way too long about Spider-Man 3 action figures.
I'm such a Geek.
Yes, I'm a Man-Child. I admit it. I'm soft. I lead a soft easy life. I've never had to chop wood to survive, or milk a cow, or build my house out of sod. But I can enjoy myself, can't I?
How else can I enjoy writing and reading children's books, I ask you. I've got to keep that child in me alive! Yeah, that's it. That's the ticket. Heh!
Okay, early next week, the complete story of "Full Burn." I promise!